April 10, 2015 at 2:11 am

|

on
From The Coca Cola Company, originally posted on June 18, 2014: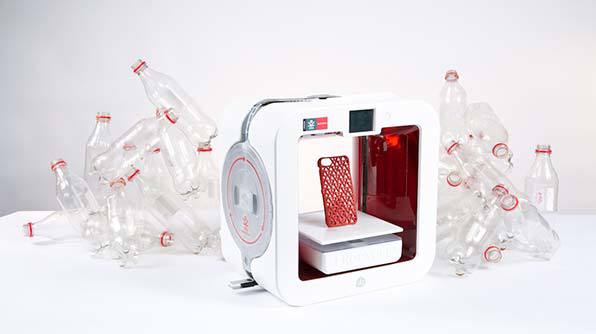 The Coca-Cola Company is teaming up with 3D Systems and will.i.am to provide more than 1,500 new EKOCYCLETM Cube® 3D printers to FIRST, an organization founded by inventor and entrepreneur Dean Kamen to inspire young people to be science and technology leaders through STEM (Science, Technology, Engineering and Math) education and mentoring programs.
"We're supporting FIRST because we understand that when you make STEM education fun and hands-on, it transforms perceptions about careers in math and technology. It provides exciting, fun and creative pathways for students to learn the critical skills they'll need to grow and thrive in the future," said Bea Perez, chief sustainability officer, The Coca-Cola Company.
The announcement was made today in Washington, D.C. at the first-ever White House Maker Faire. President Obama hosted the event, which brought together students, entrepreneurs and everyday citizens who are using digital fabrication tools such as 3D printers to launch new businesses, learn vital skills in science, technology, engineering and math (STEM), and fuel the renaissance in American manufacturing. Perez represented Coca-Cola at the event.
3D printing is a process of making three-dimensional solid objects from a digital file using additive processes, which creates an object by laying down successive layers of material.
The EKOCYCLE Cube 3D printer — envisioned by will.i.am, award-winning music artist, entrepreneur, 3DS chief creative officer and EKOCYCLE co-founder — prints with proprietary EKOCYCLE cartridges featuring post-consumer recycled plastic commonly found in drink bottles and other everyday products. Each EKOCYCLE cartridge turns the equivalent of three recycled 20-oz. PET plastic bottles into wearable fashion, music accessories or desktop décor. New to home 3D printing, rPET is a flexible filament material that retains full durability. Learn more.
The donation to FIRST, valued at more than $1.5 million, is part of a drive to provide FIRST Robotics and Tech Challenge teams – which include more than 125,000 middle school and high schools students across the U.S. – with access to an EKOCYCLE Cube 3D printer.
"The EKOCYCLE Cube 3D printer takes 3D printing to the next level, giving people all over the world the ability to transform discarded waste into useful, functional and fashionable objects," said will.i.am, who was joined at the White House by Perez and Avi Reichental, 3D Systems president & CEO, and Bea Perez, Coke's chief sustainability officer. "This is the beginning of a more sustainable 3D-printed lifestyle."
The EKOCYCLE Cube, which prints in dual color in a curated color palette of red, black, white and natural, is a plug-and-play consumer 3D printer, priced at $1,199. It will be available on the 3D Systems' online consumer hub, Cubify™. Printers are expected to ship later this year, and will come with a free collection of 25 fashion, music and sustainably minded accessories curated by will.i.am for immediate 3D printing fun.
The EKOCYCLE Cube joins a growing collection of products under the EKOCYCLE brand, which will.i.am and Coca-Cola launched to promote sustainability through aspirational, yet attainable lifestyle, products made in part from recycled materials — from New Era® caps to Beats by Dr. Dre® headphones.
"With EKOCYCLE products, consumers have been able to get beautifully designed items made with recycled materials," said Kelli Sogar, senior global licensing manager, The Coca-Cola Company. "With the EKOCYCLE Cube, there is enormous potential for everyone, from students and home crafters to artists and inventors, to feel a more direct connection with recycling and think of it as an integral part of creating something new. It's not just about making an object at home, it's about making a change in how we think about recycling."