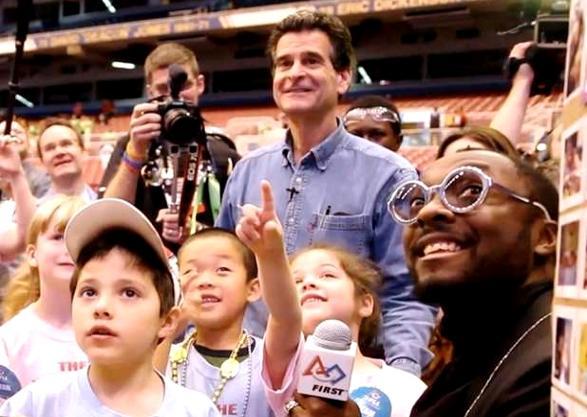 This week, more than 10,000 students from around the globe traveled to St. Louis, Mo. to put their engineering skills to the test at the annual FIRST (For Inspiration and Recognition of Science and Technology) Championship, held at the Edward Jones Dome.
The three-day event, April 24-27, came down to a heart-pounding conclusion Saturday night in front of a roaring crowd of 25,000 when three teams from Mississauga, Ontario, Canada; The Woodlands, Texas; and Toronto, Ontario, Canada won the coveted FIRST Robotics Competition (FRC) Championship. In this year's game, ULTIMATE ASCENT, two Alliances made up of three teams each try to score as many flying discs into their goals as possible during the two-minute and 15-second match. This year, 2,546 FRC teams in 17 countries participated in 77 Regional and District competitions.
In all, more than 10,000 students, ages 6 to 18, participated in the Championship events. At the Opening Ceremonies, accomplished inventor and FIRST founder Dean Kamen recognized pop superstar will.i.am for his volunteer work with the not-for-profit. "I'm proud to help FIRST inspire young people to pursue science and technology careers," will.i.am said. "The experience that students gain and the values they learn in FIRST programs are crucial to creating the innovative problem solvers of tomorrow."
Read the full article here.